5.07.10

The Absolute Sound dodelio Electrocompaniet-u trostruku nagradu Golden Ear za 2010. godinu.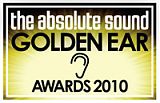 Kao sto ste vec mogli da primetite norveski Electrocompaniet koraca koracima od 7 milja na svim trzistima a posebno na najznacajnijem trzistu Severne Amerike. U proteklih godinu dana nekoliko najznacanijih US Hi-Fi magazina je testiralo i dalo izuzetno visoke ocene, pre svega pojacalima i CD plejerima, ove poznate kuce sa dugom tradicijom.
Svakako jedan od najprestiznijih i najcenjenijih hi-fi magazina, americki The Absolute Sound se ovoga puta odlucio da dodeli cak 3 "zlatna uha" koji simbolizuju vrhunski zvuk pojacalu snage Electrocompaniet AW 250 R, predpojacalu EC 4.8 i CD plejeru EMC1 UP. Medjutim, uvidevsi sklad i sinergiju ovogodisnjih laureata redakcija magazina se odlucila na jednu novost jer ove 3 pojedinacne nagrade zapravo predstavljaju sistem. Redakcija potom donosi odluku da od sada dodeljuju nagradu i za najbolji sistem a to ce u ovoj kombinaciji biti upravo gore navedene komponente.
Uskoro cemo biti u mogucnosti da Vam posaljemo kompletan tekst i razloge koji su rukovodili novinare da u masi kvalitetnih proizvoda sa svih kontinenata upravo ovim komponentama daju ovakve prestizne i zlata vredne nagrade.
Vas Vox Trade